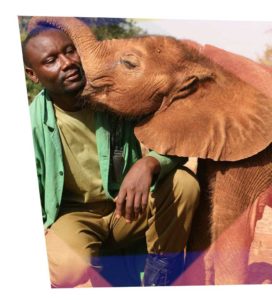 On such a buzzy day in the nonprofit world, your #GivingTuesday campaign will be the key to standing out.  As Executive Director of The David Sheldrick Wildlife Trust, Melissa Sciacca leverages over a decade of experience in wildlife conservation to support, promote, and expand her organization. Here are Melissa's top tips to help you create a campaign that resonates on the nonprofit community's biggest day of the year.
#1. Create original blog and video content that compels people to give.
"So much of our fundraising and retention efforts are centered around rich content," Melissa says. "We connect our supporters to the work we're doing on the ground in ways they can relate to. It takes a lot of effort to maintain that connection between our work in Africa and our donors in the states, but we create content that shows our mission as something people want to get behind."
#2. Make your Giving Tuesday ask goal-oriented.
"Be specific about what you're asking them for so they can see a direct impact," she advises. "Nonprofits fall into a trap of generating a general ask on Giving Tuesday when they should be promoting a specific campaign." Think compelling, creative, fun. A memorable campaign is a successful one.
#3. Offer an added benefit to participating on Giving Tuesday.
Melissa says, "Be sure to motivate your supporters with a reason to give beyond the fact that it's Giving Tuesday." For example, The David Sheldrick Wildlife Trust obtains sponsors so they can offer matched giving.  Ask yourself, "What makes this ask different than any of the other ones we do?"
#4. Set yourself apart from the rest of the participating nonprofits.
"Every nonprofit is competing for space on Giving Tuesday, so you've got to do something that makes you stand out." Melissa believes it's best to flip the script and "customize Giving Tuesday to your mission. Show supporters the direct alignment in your messaging and marketing,"
#5. Learn from your Giving Tuesday experience.
The day after Giving Tuesday is a day to celebrate your successes, pinpoint opportunities to grow, and set goals for the following year. Melissa pulls Giving Tuesday reports in DonorPerfect to set a benchmark for what her team can accomplish the next year. She also analyzes their Giving Tuesday campaigns in Constant Contact and on social media to understand what people respond to so they can apply those learnings in the future.
Many people celebrate Giving Tuesday, so how will your nonprofit stand out? The key to successfully drawing donors is to create the perfect blend of excitement with easy ways to give.
From rallying your supporters through a buzzy crowdfunding campaign to keeping in touch with your #GivingTuesday goal progress on social media, discover many ways to shine online in this brand new free guide, #GivingTuesday Ideas for 2018. Read it now!