The Right Fundraising Software and Tools Matter. Have Your Ever Try to Dig a Ditch with Hammer?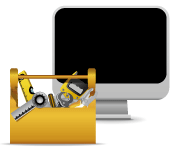 There are approximately 1.5 million nonprofits in the US, according to the National Center for Charitable Statistics, and fewer than 100,000 or so use any type of professional fundraising and constituent relationship management (CRM) software. Like accounting software, fundraising software comes in many forms and many different price levels.
Most nonprofits try to make due with general purpose business software like Excel, Microsoft Access, FileMaker Pro or QuickBooks to keep track of mailing lists and donations. These are good software products, but they aren't designed to provide numerous critical features necessary for successful fundraising. It's no surprise that organizations that start out with such programs soon encounter significant problems.
If your nonprofit is struggling with the wrong software tools, you are missing out on the two key benefits of professional fundraising software — raising more money and saving your valuable time.
About Fundraising Software
Learn how nonprofits can benefit from software that's tailored to fundraising and donor management with this free E-Book. This E-Book provides facts about fundraising software that can help you assess your organization's needs, processes, goals, and aspirations, so you can decide if fundraising software is right for you.
Return on Investment with Fundraising Software
DonorPerfect's nonprofit clients report 10% revenue growth in the first year alone! Check out this interactive fundraising software ROI calculator for more information. You'll be asked to enter 4 basic pieces of information pertaining to your nonprofit organization: total dollar amount of donations, number of donors, number of communications, and your staff's hourly rate.
FREE E-Book: How to Buy Fundraising Software – Find Your Path to Growth.
Download this E-Book from DonorPerfect to learn how you can fundraise smarter, easier, and make more money for your cause by using tools that are tailored to help your organization succeed.