Finding information on the "how to's" of building your nonprofit budget is not easy!
One of the most important aspects of your budget is knowing that what you present to your board and the public is correct and accurate. Donors expect that you are using the money wisely. It is essential that you can provide the facts and figures they will ultimately request at your fingertips! While is it can be expensive, one of the best tools you can have is a good bookkeeping system!
Below are a few websites that can offer you specific help!
Benefits and Compensation Developed by Carter McNamara, Authenticity Consulting, LLC
The complete, highly integrated library of resources for nonprofit
AND for-profit businesses can be found by clicking here!
Practical Risk Management – The Handbook for Risk and Financial Professionals
Widely referred to as "The Green Book," Practical Risk Management – The Handbook for Risk and Financial Professionals is a two-volume reference manual covering a broad range of risk management subjects including Risk Management & Self Insurance, Loss Control/Claims Management, Property Risks & Insurance, Liability Risks & Insurance, and Risk Manager's Resources. The publication provides practical, concise, action-oriented background and advice on critically important activities, techniques, and tools of risk management.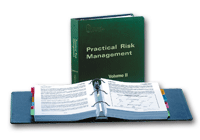 Practical Risk Management is published by the International Risk Management Institute (IRMI) and Millicent W. Workman, CPCU, serves as the editor. With more than 1500 pages of reference material, this is an excellent resource for risk managers or those who have risk management responsibilities but not on a full time basis. For more information, click here.
Special Offer: PERI and IRMI have partnered to bring this publication to PERI Website Users at a discounted rate. You can purchase Practical Risk Management on the IRMI Website. Simply enter the code PERI700 in the IRMI shopping cart to receive the 10% discount.

Purchase Practical Risk Management – The Handbook for Risk and Financial Professionalstoday on the IRMI website here.
Additional Resources:

One way to ensure that you your organization is transparent and accountable financially is to be able to rely on the guidance of others that not only know what they are doing but have the talent to be able to explain it to others so it makes sense. The team at Diversified Nonprofit Services can do just that!
Diversified Nonprofit Services can help your organization with the following:
Provide a Financial Health Assessment to determine financial viability
Provide sample policies and procedures that assure organizational performance and transparency
Explain financial stewardship and its role in the organization
Define the role of Treasurer, Finance Committee and Audit Committee of the organization
Define the role of the Agency Executive and the Board of Directors in the Fiduciary activities of the organization
Identify the necessary filing forms to the United States Treasury Department
Develop a budgeting process based on Mission as well as organizational goals and objectives, including forecasts, comparison and analysis, reviews
Identify characteristics of financial health
Develop a cash flow and cash management analysis
Develop a Risk Management Plan
For more information and answers to the technical questions no one seems to know, contact Kevin Bingham with DNS Associates a full service consulting firm. The DNS team of professionals have taught countless nonprofits what it takes to be successful in running a nonprofit business from the ground up.