As a nonprofit, nothing is more critical to the success of your mission than managing and growing your relationships with donors, volunteers, foundations, and other constituents.
What is Nonprofit CRM Software?
Nonprofit CRM Software, or customer relationship management software, is a tool designed to help organizations "keep track of their relationships, manage sales and marketing processes, and deliver more efficient service. It functions as both a database and a productivity tool, providing a repository for contact/interaction data and workflow automation that help improve efficiency."
With such mission-critical functionality, it's no wonder CRM has become one of the most widely-adopted solutions in business IT. According to Gartner's most recent estimates, the global CRM market hit $26.3 billion in 2015, up 12.3 percent from the previous year. Thanks to a wave of cloud and mobile innovation, this broad, diverse category has expanded far beyond sales into other job functions and industries like retail, real estate, and nonprofit.

Source: TechnologyAdvice
The market can feel overwhelming to a new buyer. In this guide, we'll look at the leading vendor in the nonprofit software industry to help you compare CRM software for your business.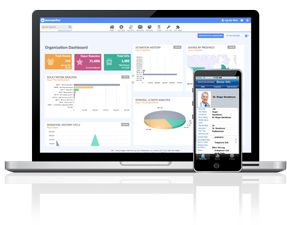 DonorPerfect is a flexible nonprofit CRM.
Since the software comes in two models, both on-site and cloud-based, it has the potential to be the perfect fit for organizations with many different needs.
Along with the fact that DonorPerfect gives nonprofits the power of choice, the best feature of this software is that it can be finely tuned to your organization's needs. While already stocked with plenty of useful features to address information management, event planning, online donations, and reporting, your nonprofit also has the option to add on a wide range of additional features and integrations if needed.
DonorPerfect is unmatched in providing the most popular features nonprofits seek when evaluating fundraising software. DonorPerfect Shines as the Winner for the Best Combination of Features at a Fantastic Price.
DonorPerfect's expandable nature makes it a highly scalable solution that can grow with you for years to come!
FREE E-Book: How to Buy Fundraising Software – Find Your Path to Growth.
Download this E-Book from DonorPerfect to learn how you can fundraise smarter, easier, and make more money for your cause by using tools that are tailored to help your organization succeed.