Over the years, we have received countless requests for help creating various policy manuals. It is important that you use the templates listed below only as a guide. Read carefully to make sure your established policy is applicable to your situation, as well as legal in your state. Many policies can be somewhat generic, so you many need additional policies for issues unique to your organization.
All important policies should be reviewed by legal counsel before putting them in place. Otherwise, you may be opening yourself as well as your organization and board of directors to potential liabilities.
Typical Contents of Nonprofit Board Manual
http://managementhelp.org/misc/Contents-Board-Manual.pdf
How to Write a Policies and Procedures Manual for a Non Profit Organization
http://www.ehow.com/how_4422449_write-manual-non-profit-organization.html
All About Boards of Directors (For-Profit and Nonprofit)
http://managementhelp.org/boards/
Guide to Sample Form 990 Nonprofit Governance Policies
http://www.michaelmalamut.com/articles/
Guide_Form_990_Nonprofit_Governance_Policies.pdf
Nonprofit Board Standing Policies Manual (SPM)
Guidelines and Template for a Nonprofit Board
FREE E-Book: How to Buy Fundraising Software – Find Your Path to Growth.
Download this E-Book from DonorPerfect to learn how you can fundraise smarter, easier, and make more money for your cause by using tools that are tailored to help your organization succeed.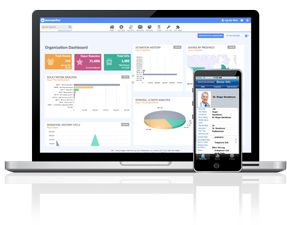 Tools for nonprofit leaders – Policies and procedures: By Paulette Vinette, CAE
Sample Policies and Procedures Manual for Nonprofit Organizations
http://www.fmaonline.net/media/Sample%20PPM%20Table%20of%20Contents-Website.pdf
Sample Accounting & Financial Policies and Procedures Manual
http://www.nonprofitresource.com/models/policiesindex.pdf
Additional Information:
DISCLAIMER: This information is not intended to provide legal or accounting advice, or to address specific situations. Please consult with your legal or tax advisor to supplement and verify what you learn here.