This post was originally published here (The TechSoup Blog)
The median nonprofit technology budget is around 2 percent of our total operating budgets across all organization sizes these days. So it's no wonder that it's hard to ask your boss for the new technology your organization needs.
There may be a way, though. Here are some pointers on how to make the case that tech purchases save organizations money over the long term.
Decision makers very often like to have clear and understandable facts and figures to help them decide where to spend their organization's resources. In the larger IT world, the tool for doing this is an ROI analysis or return on investment case. It sounds pretty technical, but it is reasonably straightforward.
How to Make an ROI Case
Let's say that your organization really needs to replace four old PCs that keep breaking. Or maybe your fundraising crew has identified current donor management software to keep track of your donors and fundraise more efficiently. An ROI analysis is a decision-making document for any IT purchase. It quantifies the amount of time and money saved minus the cost of the new technology.
Here's an example of an ROI spreadsheet for a large IT investment.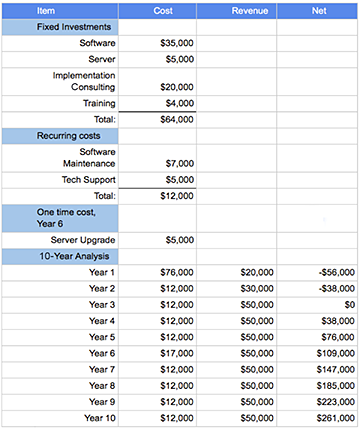 This spreadsheet clearly identifies both one-time and recurring initial costs for the technology investment. It also provides an estimate on how quickly the investment will pay for itself and then increase revenues over 10 years.
The Narrative Part of an ROI Analysis
A narrative should accompany the spreadsheet explaining the problem with the existing IT situation. For instance, having an inadequate donor management system costs the organization unnecessary staff hours, making for inefficient fundraising, and lost opportunities to engage potential donors.
The narrative should also explain how the new proposed donor management system will fix the problems, save money in terms of better productivity, and increase fundraising potential.
Questions Decision Makers Need Answered
It's hard to generalize, but here are some typical concerns that decision makers might have when thinking about a significant IT purchase.
What improvement will this investment bring to our organization?
Will there be any staffing changes that this investment requires?
Do we have staff buy-in that will result in a successful IT investment?
Have we factored in all the training costs in staff time and money for this?
One final tip — talk with colleagues outside or within your organization who have done similar projects. Find out what worked for them and what didn't. For more detailed information on calculating ROI, see Peter Campbell's great article on TechSoup, How to Measure the Value of an IT Investment.
Popular End-of-Fiscal-Year Product Donations
These are software and hardware investments that many organizations make as we approach the end of the fiscal year (which is June 30 for TechSoup). Keep in mind that many product donation limits reset on July 1. So if you need 10 of something, but the limit is 5, you could request 5 now and 5 on July 1 (if you haven't already requested some this fiscal year).
TechSoup Refurbished Computers
TechSoup's RCI program provides warrantied factory-refurbished, commercial-grade computer systems to charities, foundations, churches, and libraries across the country at around half the cost of equivalent new equipment.
Microsoft Office
Microsoft Office Professional Plus is the latest version of the flagship on-premises office productivity suite. It includes nine office applications. Eligible organizations can get 50 copies of this most popular product donation every two years.
Symantec
Symantec security product donations were our most popular products last year. Two often-requested donations are Norton Small Business to protect local networks and Symantec Mail Security to add an extra layer of protection to Exchange Server–based email systems.
Adobe Creative Cloud
TechSoup's Adobe Creative Cloud All Apps Plan offers organizations steeply discounted rates on pretty much every design app Adobe makes. For lighter uses, the Photoshop Elements 15 and Premiere Elements 15 bundles offer consumer-level tools for editing digital images and videos.
Additional Resources for Tech Planning
For longer term assessment of your technology plans and needs, Idealware, in partnership with TechSoup, is offering a comprehensive series of practical, step-by-step technology planning learning courses. This four-course technology planning track will help your organization get the clarity it needs to address your current and future IT needs. At the end of the learning track, you'll have a fully realized tactical technology action plan to guide your organization.
Image 1: Monkey Business Images / Shutterstock
Image 2: Peter Campbell
Save