This post is from Jon Biedermann, Vice President of Fundraising Solutions for DonorPerfect.
Last month I had the pleasure of helping organize the Player's Charity Championship IV, a virtual golf tournament/fundraising event that has been held about once every four years.
Virtual Golf, you say? Yes, you heard that right- for the last 8+ years I have been helping Virtual Golfers for UnderDogs, an actual 501c organization which raises funds for under-served nonprofit organizations.
We raise funds by holding a special fundraising tournament once every approximately 4 years, where over 100 people gathered from across the country to compete in a "PGA" style golf tournament- you can win cash and prizes. But instead of hitting a golf ball with a club, these professionals (many make a real living playing year round!), swing and hit a trackball that creates their shots around a virtual golf course on the screen. It's called Golden Tee, the most successful coin-operated video game in history, even more successful than Pac-Man!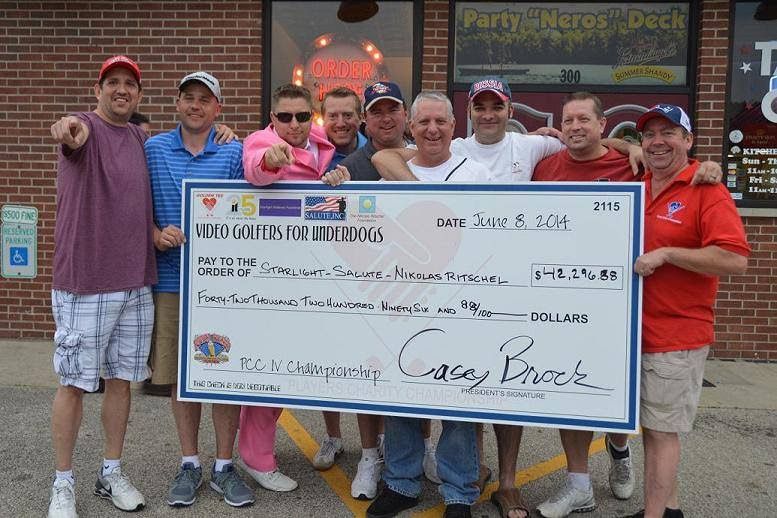 And these guys are good. For just 18 holes, scores average -24 under par. Yes, that's right- 24 strokes under par.
In the beginning, I was one of these professionals, earning some meaningful money and even making a World Championship in 2004. Alas, time, work, and family obligations led me to hang up my virtual clubs, but I'm still involved with the charity side.
And we raise money- over the years we've raised over $150,000 for charities.
Last month, our fourth installment of the Players Charity Championship raised over $42,000! Naturally, we used a combination of DonorPerfect, WebLink, and DonorPages to drive crowdfunding websites for each of the golfers. You can visit the main event website here, my own personal page is here (why not make a donation?).
While the name and the cause might be a little different from your typical special event, almost everything else was the same. This included coordinating planning committees, volunteers, vendors, donation collections, and of course running the actual event itself.
Here are the Top 10 Lessons for Special Event Fundraising:
It's never too early to start planning. We started 9 months prior, and we could have used an additional 2-3 months.
Your volunteers will change over time. People get interested, but then have to leave. Plan on attrition ahead of time so you don't get upset.
Only show the results vs. the goal when you have raised at least 10%-15% of the total. People like to think that there are "other people at the party", and it's a phenomenon called 'social proof'. (And is the same reason why people will wait in their cars to attend a party before they see other people show up…no one wants to be the first to a party, or in this case the first to donate)
It is much more important to release a press release correctly than to write a press release correctly.
If a volunteer makes a mistake, never, ever, correct them during the event. Instead, have another volunteer correct the mistake.
If a volunteer offers an idea and it's good, have them run it and get out of the way- no one likes a micromanager and you'll get better results. If it's not good, let them know you need to talk to others first.
Always over-estimate the cost of everything. Always underestimate your revenue.
Speak directly into the microphone where your lips almost touch it. If it's too loud for you, it's likely perfect for the majority of attendees and the back of the room.
Keep your remarks short. Brevity is the soul of wit. It's easy to lose the crowd when any one speaker talks for longer than 90 seconds.
When the event is over, send an immediate thank you summary to your constituents. They want to know how their efforts made a difference.
Good luck with your future fundraising events!
The post Top 10 Special Event Tips that Stand the Test of Time appeared first on DonorPerfect.
FREE E-Book: How to Plan a Nonprofit Fundraising Event on a Budget
This comprehensive guide from DonorPerfect shares tips and best practices from executive directors, event planners, and fundraising experts that can help you succeed in raising more money at your event while spending less in the process.